Introducing
Digimetriq's AI SPINNER
The Backbone of All Our Services

Google Friendly Spinning
Readable and Grammatically Correct

Indexes on Google Easily

Adsense Friendly

Unlike Any Other
Built upon OpenAi's GPT3

Not Thesaurus Based

The Only GPT3 Paraphraser out there!

User Friendly
Paste Text or Upload Document Directly

Retains Article Formatting

Reduces Editing Requirements
How It Works
What actually happens in the back-end
Step 1.
Register an Account
Register an Account and get a Free trial. Alternatively, subscribe to the Monthly or Limited period Lifetime Subscription.
You get 1000 Free credits to use once you sign up for a free trial. Head over to the Articles area next.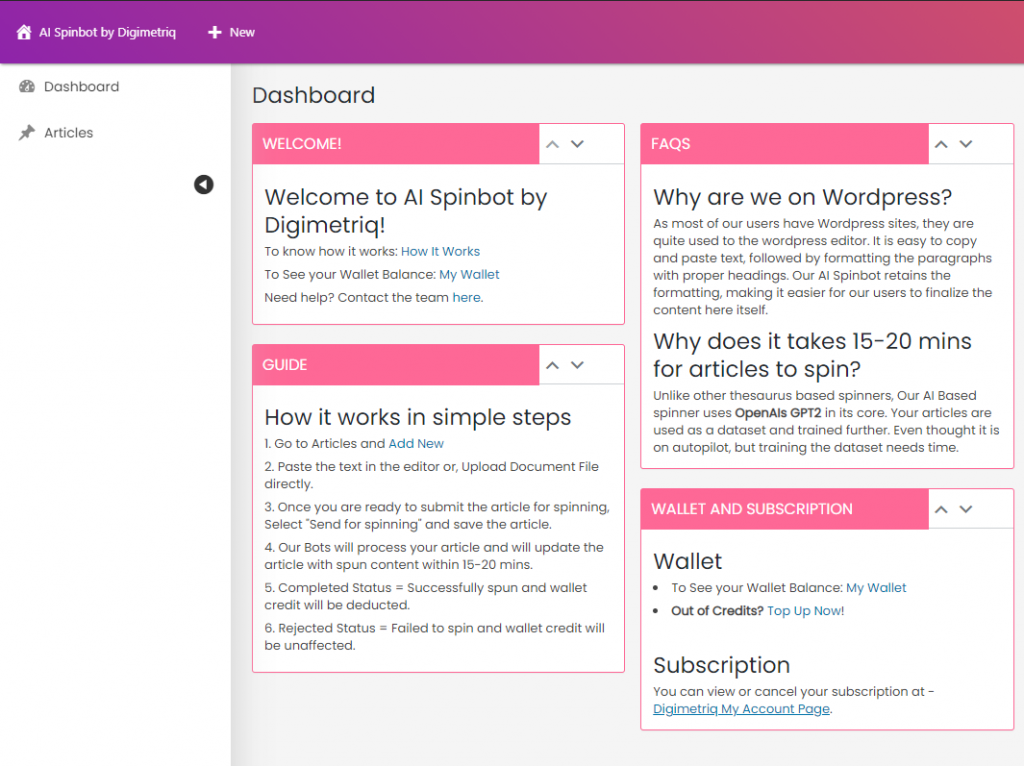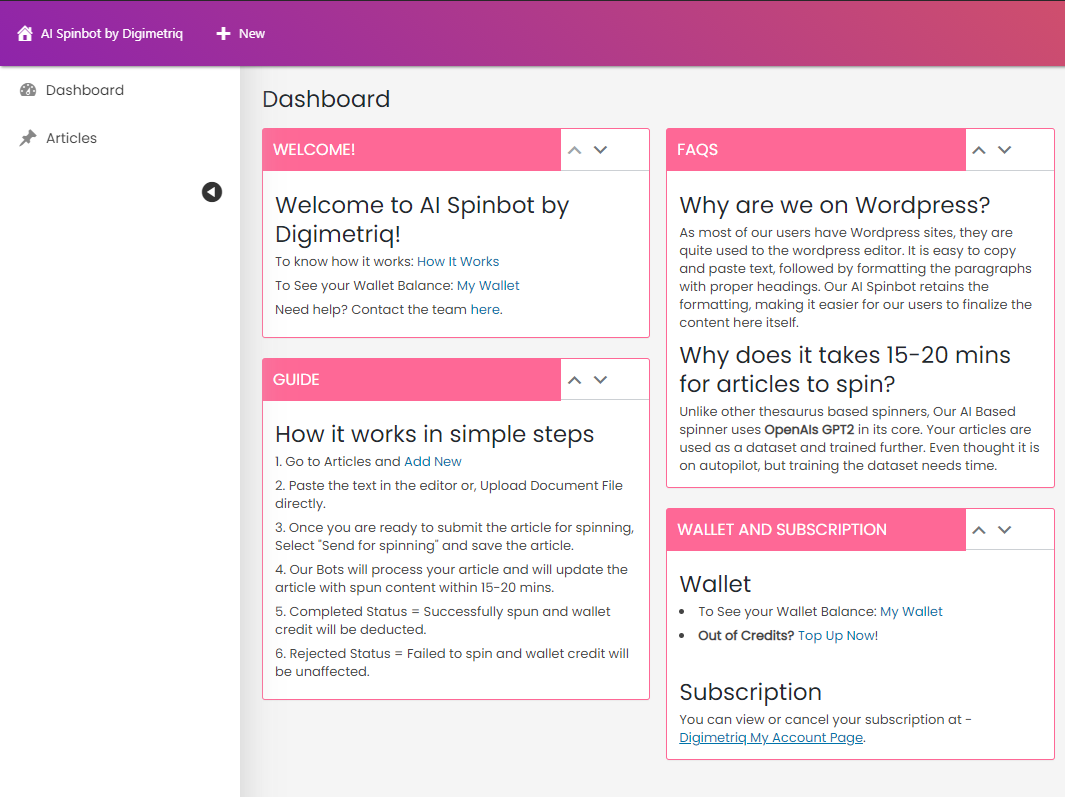 Step 2.
Submit a Text/ Document to Spin
Paste a Text, or Upload a Document directly to preserve formatting.
Simply, select Send for Spinning in the Publish Box and hit Save.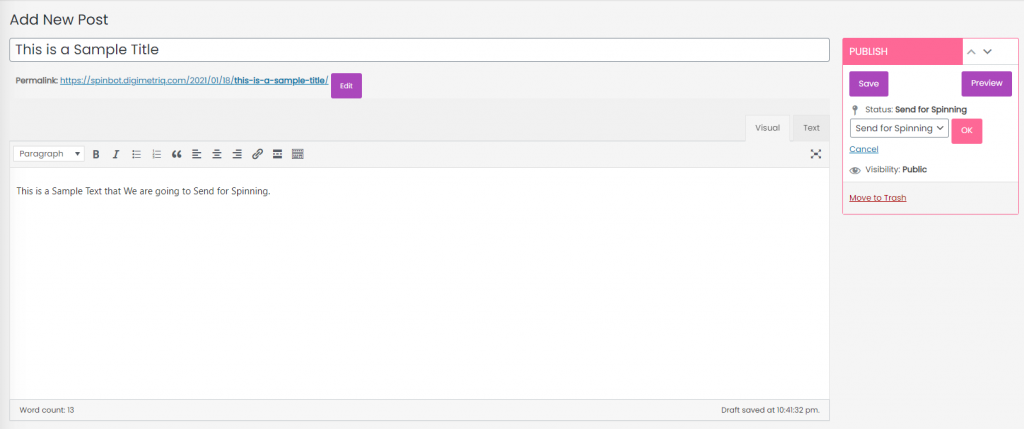 Step 3.
Bots Takeover
Our 24-7 Working Bots take control of your article. They use your submitted content goes through GPT3 model by OpenAI, for paraphrasing.
The entire spinning process is usually completed within 15 mins for a 1000 words content.
It takes time, but it's worth it.
Step 4.
Spin Complete
The Bots mark the article as Completed and you can track that in your dashboard.
Your Wallet credits are deducted proportionately to the word count of your article.
Why Autoblogging?
Use
Cases
You can use Digimetriq's AI Spinner for the following-
Keep your money site updated with regular content. Works best with sites with Fast indexing.
Add niche relevant content to your site.
Add manual interlinks later to your money pages.
Want to keep your PBNs updated? Go for it right away!
Bonus – These articles might bring in traffic too!
Setup Web 2.0s and Parasites with the help of AI Spinner and see for yourself how easy it is to get them indexed.
Autoblogging with AI
Core
features
Digimetriq's AI Spinner is the backbone of all services that we have available to offer. We have been building automated solutions to scale up things since 4 years.
We are running PR Sites, Real Blog Networks, Autoblogging on over 150+ blogs and all are powered by our Spinner.
We're no longer accepting new registrations.
Active Auto-Blogs
We have 61 Autoblogs running of our own, spread over 16 Niches – Wines, Travel, Tech – code, Tech, Reviews, News, Movies, Home, Health, General, Gaming, Food, Celebrity, Business, Beauty, and Amazon.
If you want to see the quality of the articles, just go to any of the sites mentioned below. No one from our team, manually edits any of the articles. These are sites that use Autoblogging, which is powered by our AI Spinbot. Good/ Bad articles? – you can be the judge!
Tip – If you ever wanted to scale things up, you can purchase an Autoblogging plan and basically relax!.
For more serious investors, get an RBN, and basically get a huge discount (upto 63% off!) on autoblogging.
All these were launched in the month of November, 2020.
Ahrefs Stats As on July 2nd, 2021